Get involved with Girls in Tech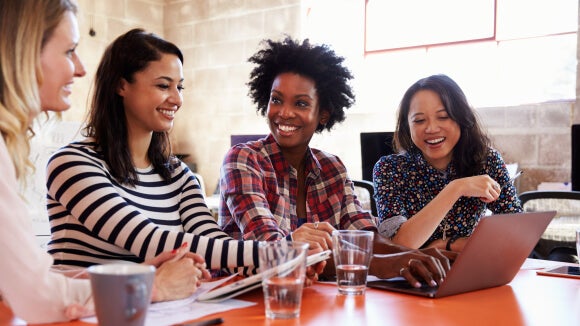 Girls in Tech (GIT) is a global non-profit focused on the engagement, education and empowerment of girls and women who are passionate about technology. We speak to Jessica Box – Managing Director, Girls in Tech and Marketing Director, Finch and Renece Brewster - Board Member for Girls in Tech and Co-Founder, CEO of Visual Domain.
Who are Girls in Tech?
Founded in San Francisco in 2007 by Adriana Gascoigne, Girls in Tech creates a support framework to help women advance their careers in STEM fields. It expanded to Australia nearly 2 years ago and aims to accelerate the growth of innovative women entering the high-tech industry and building startups. This is achieved through the creation of proprietary, innovative programming and strategic global partnerships.
What challenges do women face in entering technology?
Jess: Women are vastly underrepresented in STEM jobs and among STEM degree holders. For the past 20 years, women have held less than 25% of jobs in the tech industry. Girls in Tech have the opportunity to support the growth and education of women in the tech world, in both engineering and non-engineering professions and expand employment opportunities for women across Australia and internationally.
Girls in Tech represents two things for Melbourne in that context:
1. Inspiring women to reach and exceed their potential.
2. Build the frameworks for new skills to be developed.
Renece: The challenge is not just getting women into technology careers, it is keeping them there. Statistics often show that around a quarter of those that enter the industry, leave soon after. It is vital that employers understand the needs of female employees and ensure they create an environment where they have equal opportunities. Almost half of women in technology feel they cannot ask for a promotion or raise, and almost as many believe they are paid less than male peers.
What motivated you to get involved?
Jess: There are 3 pillars that are crucial to quality output in the workplace:
Unique ideas and concepts
Varying experiences
Balance of disciplines and schools of thought
Sitting across from that is gender (and all other diversity groups we should be inclusive of). I worked in an organisation for 5 years with a 10% / 90% diversity split, but what was unique was that we all supported each other to succeed through the pillars above. Regardless of someone's gender, their voice was heard because of their ideas, experiences and thinking.
I'm involved in Girls in Tech to help others understand how important those pillars are in technology, as we move into the unknown wave of the 'technology revolution' we're in now.
Renece: My involvement in Girls in Tech is about creating a community of like-minded women and an environment where we can talk about challenges faced with the input of those who have been there before or can understand your perspective. An added bonus is creating events that inspire, teach and enable our members to build their confidence and skills, which is particularly rewarding.
How has your involvement with Girls in Tech positively impacted your career?
Jess: Girls in Tech has enabled me to grow in my career. Not only can you find long term mentors and a thriving support network, but new opportunities arise from being involved. Personally, I just started a new role as Marketing Director of Finch, and met the Co-Founder (Shahirah Gardner) from sitting on the board. A very positive result!
What is the most enjoyable part of your involvement in the group?
Jess: Catalyst is the highlight of my Girls in Tech journey - not only was I able to form long term working relationships (and friendships) with many incredible women who are part of the organisation, but we were able to share our mission with Melbourne. You don't always expect to inspire people when you set out to bring likeminded people together, but when it happens you certainly feel happy you did.
Renece: the most enjoyable part has been building friendships and relationships with like-minded women who inspire me. I'm in a leadership position at my company Visual Domain and as CEO you can't turn to your team for advice and confidence, you're the one who needs to provide it. Girls in Tech offers me support system of women who I admire and know I can turn to as different challenges rise.
How are you able to measure the impact of Girls in Tech?
Renece: In the two years I have been a volunteer I've seen the community grow in size and energy. Evidence of the growth can be seen in our ever-expanding membership numbers and social media followers but also how quickly our events sell out - many this year in just hours. I think this is a direct result of the energy and culture that is present at these events. Attendees comment on how relaxed and fun each event is, it's like going out with friends where you walk away with new skills.
How can people get involved?
Head to the Girls in Tech website and join to hear about upcoming events – it's free. You can also follow us on social @gitaustralia
Find out more our technology landscape in our latest whitepaper.