Inter-Generation Game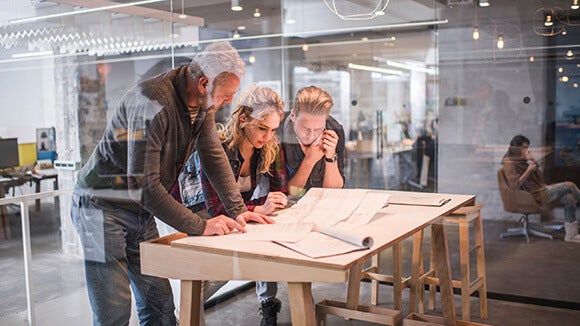 It is always interesting to find out how our own recruitment intelligence theories match what is currently going on in the market. So, it was our pleasure to welcome Tracy Cowap, Westpac's senior manager of employee insights to the Robert Walters Sydney office to discuss our latest whitepaper 'Attracting, retaining and developing Millennials'.
The paper reported on elements such as intergenerational conflict, key motivational drivers and technology investment needs of this key demographic. Outcomes around technology were particularly interesting; with only 50% of Millennials saying they would leave their job if there was no investment in emerging technology; however 87% of employers believe Millennials would leave for this reason.
Introduced by Robert Walters' Sydney Director Andrew Hanson, Tracy began by detailing Westpac's own consistencies to our findings, particularly around remuneration, leadership and career opportunities. Joined by senior HR leaders in the Banking, IT, Education and Insurance space, Tracy then led an interactive conversation on employee engagement and the employment action groups Westpac have in place to attract, retain and develop employees across all generations.
To attract, retain and develop future leaders, organisations need to ensure that they have a strong trusting culture, offer great career opportunities and performance is enabled through technology and the working environment.
Career progression for all
The term career progression usually centres heavily on monetary reward, especially when relating to Millennials. However, Tracy discussed how progression in terms of learning extra skills and qualifications and gaining more industry experience, is actually valued more. There seems to be a myth that being motivated by career progression stops at a certain age and it is only Millennials who are interested. Older generations have shown that they share the same drive and ambition for career progression, so it is important that organisations recognise career progression is for all generations and this Millennials myth, can be busted.
Exit route
Tracy led with the saying 'People don't leave companies, they leave leaders'. Organisations need to focus on making sure that the strong culture they offer is littered with inspirational leaders who are accessible and able to teach. Opportunities, on the job learning and a strong culture ranked high for all generations as reasons to stay in a job longer term.
Back to the future
In order to increase efficiency and work flexibility, investment in supporting technology is a leading factor according to Westpac's research from their Diversity and Flexibility survey. Westpac is clearly aware of the importance of technology for employees and customers, with a recent article in the AFR outlining Westpac's own technology targets, stating "Digital will be the main driver of the bank's targeted expense-to-income ratio below 40 per cent within the next three years. He is increasing investment spending by 20 per cent to $1.3 billion a year and most of this will go into technology."
To find out more about our whitepaper on attracting, retaining and developing Millennial professionals click here.
If you would like to speak to one of our specialist HR recruitment consultants today contact us here.