What will be hot in the world of technology in 2018?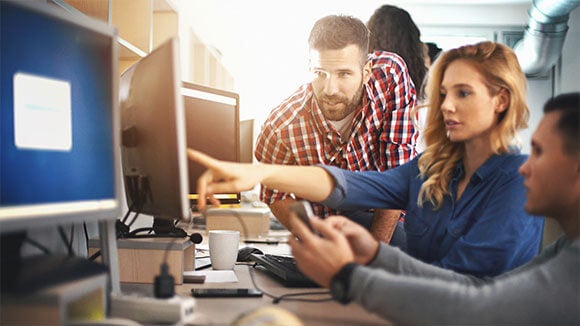 Technology is evolving at a rapid rate and organisations constantly have to adapt. That means the demand for IT professionals is changing too and in 2018 80% of employers expect IT workloads to increase. 
What skills are in demand?
In 2018, cyber security professionals will see the highest growth in demand for their services, in the wake of high profile security breaches and increased regulatory scrutiny in 2017.
Also high in demand are development and digital specialists, especially those with experience in digital transformation. Likewise, business intelligence and data management professionals will be required to maximise commercial opportunities by understanding cutomer behaviour.
What challenges do hiring managers face in seeking tech talent?
When it comes to recruiting IT talent in 2018, hiring managers face a perfect storm. 74% of employers in Australia and New Zealand say their hardest IT recruitment challenge is a lack of suitable candidates. Alongside this challenge is length of time it takes to recruit and the cost/budget to recruit.
Technologists who possess in-demand skills are likely to receive multiple job offers in 2018, often simultaneously. The recruitment process is the first impression a candidate gets of a prospective employer, and if that process is drawn out then candidates will see that as symptomatic of how the organisation operates.
How can hiring managers attract and retain tech recruits?
In a recruitment market as tight as Australia and New Zealand's technology space, it is vital that employers understand what drives and engages their IT professionals, in order to attract and retain them. 
IT specialists are motivated by range of factors. For example, almost one in three (31%) said their first or second priority was the technology and projects they could work on.
To ensure staff retention, 79% of IT professionals said that "the opportunity to work from home or other flexible working options" was an effective strategy. This rated much higher than increasing salaries and bonuses (60%), which rated joint second alongside varied and challenging work (60%).
Advice for top tech talent to stay ahead of the game.
Nine out of ten respondents said automation will impact the skillset of IT professionals within the next five years.
Technology professionals are seeing automation reshape businesses, and are aware  that they need to adapt and upskill accordingly. There is much to gain for professionals who are brave enough to step outside their comfort zone, embrace opportunities and to recognise that they need to adapt to the developments in tech being introduced through automation.
Read more on the Technology & Recruitment landscape in 2018 in our whitepaper.
Currently looking for top tech talent for your organisation? submit a vacancy.