The future of the workplace looks healthy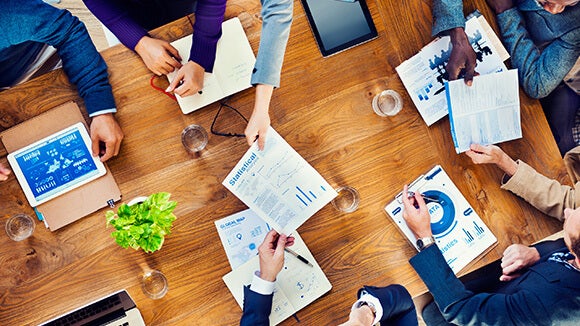 Organisations that invest time and resources into their wellness programs now, will be better positioned for future success, according to our latest whitepaper 'The value of promoting health and wellbeing'.
Robert Walters Sydney recently welcomed over 40 human resources specialists to discuss attitudes towards workplace wellness and how employers can better implement and benefit from workplace wellness programs.
The event was hosted by Sydney Director, Andrew Hanson and HR Recruitment Manager, Jennifer Rees-Gay, who introduced the key insights and recommendations from the whitepaper, based on research that included surveying over 2400 professionals and 1000 hiring managers across Australia and New Zealand.
Guest speaker Mark Elliott, Director Sales Management for AccessEAP, addressed four key considerations when aligning health and wellbeing programs with the modern workplace.
1. What does the current workplace situation look like?
Employee engagement is one measure to gauge how emotionally attached workers are to their workplace and motivated to be productive. A recent survey¹ found 32% of Australian workers identify as highly engaged. One barrier to employee engagement is stress - the highest causes being oney and family - and the impact that can have at both work and home. Organisations need to tailor their health and wellbeing programs to accommodate for people in different stages of life; options such as flexible work arrangements can be effective.
2. What are the characteristics of a thriving workplace?
Health and wellbeing in the workplace is not just about programs and initiatives; it requires creating a diverse and inclusive environment with continual flow of information. Other critical factors include job design, magnifying people's strengths and setting clear and reasonable rules people can believe in.²
3. What are the factors that contribute to a healthy workplace?
It is important to firstly ensure the workplace minimises the risk of physical and mental injury. Increasing awareness through clear communication, and offering employee assistance programs that include both preventive and reactive strategies are also key factors in laying the foundations of a healthy workplace. Additional training programs that educate staff on stress management, and give guidance on how to support workers' recovery from mental illness and stress are highly beneficial.³
4. What does this all mean for organisations?
The aspirational goal of every business should be that each individual comes to work everyday feeling enthusiastic and return home fulfilled. Mark Elliott summarised advice to organisations considering plans for a workplace wellness program design:
No workplace is immune to the impact of change, poor inter-personal relationships and "life events" on individual employees and business performance.
Workplaces that proactively promote "whole of organisation responsibility" to wellbeing, transparency, engagement and inclusiveness will be more successful.
Implementing initiatives that support individuals through "life stage" challenges will significantly improve business performance outcomes.
For more information on the value of promoting employees health and wellbeing, read our latest whitepaper here.
¹ 2014 Global Workforce Study – Australia at a Glance (Towers Watson).
² Harvard Business Review - Rob Goffee, Gareth Jones May 2013.
³ Headsup.org.au - Creating mentally healthy workplaces (a review of the research) – strategies for creating mentally healthy workplaces.