Building Satellite teams with Flux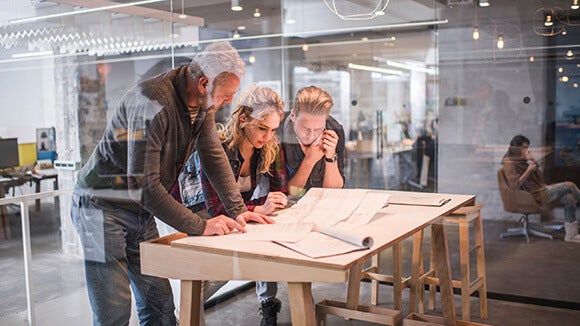 Building satellite teams is a growing trend for businesses operating globally. Mark Drysdale, Chief Technology Officer at Flux Federation, tells us how they successfully built satellite teams. Flux Federation is the power behind Powershop. Their 150+ employees imagine, design and build software, brands and experiences for energy companies and their customers, all around the world.
Why did you establish a satellite team in Melbourne?
There were two main reasons for our expansion to Melbourne:
1. From a strategic perspective we have clients in New Zealand, Australia and the UK and we are always thinking "how do we support them best"; should we have development in the UK, for example. By establishing an office closer to home we could figure out what it meant to open an international office, the culture of hiring, maintaining delivery standards and ensuring it was aligned tightly with our home in Wellington.
2. From a product perspective the feature we wanted to build was more targeted to the Australian market. Therefore, Melbourne seemed like the perfect fit for us to establish a satellite office and develop our product.
What were the challenges in establishing a satellite team?
The decision to establish an office overseas was made in September and within seven weeks we had people on the ground ready to go. Initially we expected to find it challenging to source office space but after an initial scope of available property we settled with The Cluster, a co-working office space.
Whilst it was easy to source office space, the challenge we did encounter was sourcing accommodation for our Wellington staff who were relocating, as this took longer than we had anticipated. It is important for employees' personal lives to be settled so they can contribute productively at work.
We also learnt very quickly the importance of face to face conversations between remote teams, and as a result our travel budget has grown
How did you integrate the teams in New Zealand and Melbourne?
To integrate the offices we seeded a few individuals from Wellington to form the core of the new office and then hired new local talent. This allowed the new crew to integrate easily with our culture and technology practices.
Practically, we invested in strong video conferencing for daily connection and communication to support collaboration between the offices. Alongside this we record knowledge sharing and product update sessions to be viewed by the satellite team when practical. We have seen the value that these tools and practices have in facilitating the seamless integration of the offices.
What success have you seen to date in Melbourne?
The key success is that we can scale our development capacity in another location and in doing so we have found some amazing talent. This talent has hit the ground running and been a great addition to our culture, and has supported our goal to diversify our team.
In addition, members of our team in Wellington now have the opportunity to progress their careers internationally. Before expanding, we may have lost some staff who wanted international opportunities which we couldn't previously provide.
What is your advice to others looking to establish satellite teams?
My top 5 tips would be:
Consider co-working or serviced office spaces, rather than individual office space – it opens up working networks and collaborations with other businesses.
Don't underestimate the value of good video conferencing tools.
Find a partner in the market to source the right talent locally; they can navigate local talent and through working together increase your knowledge of the market.
Understand your success metrics and how you will measure this prior to establishing. When you are experimenting it is important to check whether you are on track. Not everything you try will shift the needle in the right direction.
It is less about your cultural fit than cultural add. Be proud of the local culture as it can add to the existing culture.
About Mark Drysdale
Mark drives strategy and purpose that employees can align to; he communicates the wider vision for Flux Federation. Having over 25 years' experience in the tech industry he is an innovator, and drives change across tech in the Pacific region.
Flux Federation is a client of Robert Walters and we are happy to support them in building satellite teams.
Interested in attracting and retaining Millenial professionals? Read our latest research examining the motivations and workplace habits of Millennial professionals in order to better attract and retain this key demographic.
Check out our latest whitepaper on how to leverage the contingent workforce.