How to build high performing teams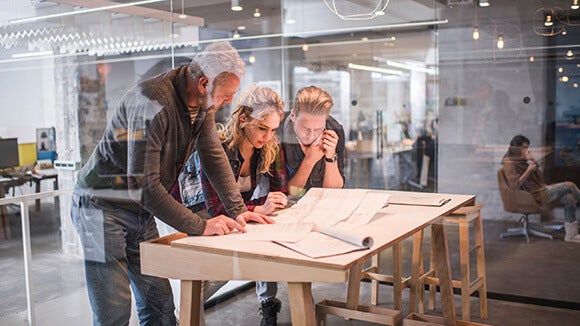 Google's Anil Sabharwal says, it's time to talk about how to build high performing teams and cultures.
High performing teams were a hot topic at the Google Cloud Summit as it is the standard to which every organisation aims to meet. It's a concept referring to teams that are highly focused on their goals to achieve business results successfully. Here's the fifteen takeaways we have learned from Google Vice president of Product Management Anil Sabharwal on how to build high performing teams.
Define a clear mission
Make sure everyone within the team knows the mission clearly. If everyone on the team can't explain what problem your product or service is solving, why it's unique and how you will win – then you may want to stop and reconsider what you are offering.
Focus is good when it's concentrating on the right things
Obsess on the right reasons and ask yourself why? Be your user. Trust your intentions. Make sure you use data to make educated decisions while applying your leadership.
Craftspersonship
Think about the user experience by building a beautiful, reliable, predictable, intuitive and useful product or service. When thinking about creating or using technology, make sure it solves a problem. Deliver a product or service that adds value and that you can be proud of through great design.
How you should structure the team
Don't structure the organisation around job functions or platforms. Build autonomous and small teams responsible for solving user problems by letting them operate like a mini start-up. Give guidance, allocate resources and then let them operate, be creative and grow.
Empower people
Hold people accountable of their own task by defining them and making one person responsible for the end-to-end effort. Give them the power and authority to act and own the outcome.
Foster constructive debate
The best results come from a passionate and constructive idea sharing environment. Foster a workplace that strives for honesty, trust and respect and encourage your teams to voice their opinion and challenge the status-quo.
Know the expected outcome for everything you do. Make sure you know what you're trying to achieve with every launch and work backwards when making decisions
Velocity versus accuracy
Most decisions can be reversed without too much damage. If you decide to change the direction of a decision - you need to think fast and base it on the most information you have on hands such as latest data sets. It's better to get most decisions right and move fast than always be right and move slow.
They may not always agree and that's ok
Create a team that is empowered to make decisions. It's not about consensus but transparency. Positive contention will foster open communication before a decision is made. Transparency and trust allow the broader team to commit even if they don't necessarily agree. So instead of trying to get consensus, try to achieve alignment.
Flip flop
The moment you realize you made a bad decision just own it and change it. People may call you inconsistent but don't be stubborn as it's better to change your mind than knowing you are wrong and keep going.
Tell your team to stop wasting time on decks
Very few meetings require a formal presentation. Brainstorming should involve a whiteboard, some mocks and a lot of idea sharing. There should be little preparation time as long as you know your topic. Spend time doing work for users, not managers.
Aggressive goals
Start-ups don't call it "a sense of urgency" as it simply is. If your organisation is larger, operate like a start-up when making decisions. Make goals date driven and find urgent reasons to hit them. Be accountable and agile.
Build diverse teams
It's important to foster inclusion and create a safe environment for everyone to be themselves. Your team will be happier and deliver better results.
Invest in people management
Help your team become great. Give them a forum to be engaged and share with each other. Encourage them to push their managers to be better and try harder.
Stop being so serious
Do great things but have fun doing it as most jobs don't involve life and death situation. If you apply this, staff engagement will increase.
As Bill Campbell used to say "I can make you a manager, but you need to earn the title of leader". This can be applied to everyone, even non-managers, as they can be some of the best leaders within an organisation. Successful transformation is led by people and culture so it's your role to create the conditions for teams to be successful.
Read 5 tips to take your team from ordinary to extraordinary.
Find out more on developing a top graduate program.