Leading in the new era of work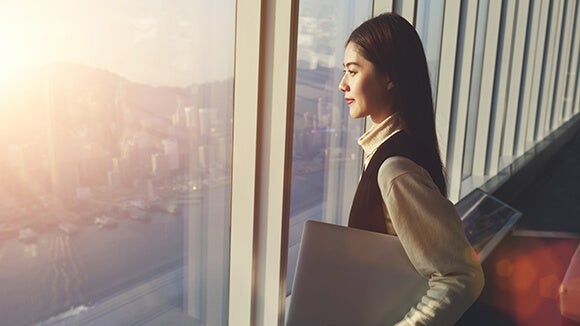 During the pandemic, organisations across the globe have been forced to experiment with a whole range of remote and flexible working arrangements. Just as workforces have had to rapidly adjust, so too have leaders.
Now employers are reflecting how the experience of the past months might shape the next few years. As our eguide 'The Future of Work: Futureproofing Careers and Workforces.' reveals, a lot can be learned from this short space of time to help leaders develop and succeed in future.
Leaders need to bring out the best in their flexible teams
Robert Walters surveyed more than 5,000 professionals worldwide, from a range of industries, and the results were revealing.
Four key leadership traits emerged in order to successfully lead businesses, teams, employees and business partners into a new, uncertain future:

Make swift, effective decisions
Business leaders will need to leverage data in their decision-making process when managing remote workforces. They should be transparent when communicating decisions as well as trusting and delegating decision making to empower and develop their teams.
Engage and build trust
For effective virtual collaborations business leaders need to cultivate strong relationships with their teams and stakeholders whether that be by listening, being open to feedback, storytelling or creatively engaging.
Balancing wellbeing and productivity
Employee wellbeing is paramount for leaders balancing flexible working environments with business objectives. Check in with your employees, treat everyone's circumstances as unique and adjust expectations.
Embrace change and encourage innovation
To remain competitive in the long-term, business leaders will need to embrace and invest in technology that facilitates employee collaboration. This will streamline remote working and ensures that company culture is sustained.
Embedding empathy-first leadership strategy

Our survey also found that the majority of employees (53%) said their leaders required a better understanding of mental health and wellbeing.
To be able to safeguard the mental wellbeing of their people, leaders must proactively look after their own personal mental health. The pandemic has really tested leaders' capacity to do this. Many have worked long hours for a sustained period of months, juggling work with family life, providing emotional support for colleagues, and managing redundancies, stand downs and restructures.
In times like these, managers can fall into the trap of not prioritising things like sleep, exercise and good nutrition. There can also be a tendency for leaders to 'grin and bear it'. However, the myth of the flawless leader can actually do more harm than good. Instead, there is enormous value in leaders being proactive about their mental wellness and also speaking openly about the issue.
By demonstrating a visible long-term commitment to mental health, leaders set the tone for their people. Employers should develop (and widely communicate) strategies for a mentally healthy workforce, including providing resources for employees such as training, webinars and blogs on how to manage mental health. Good health and safety management should also be integrated into all business decisions, policies and procedures. This includes actively identifying risks to mental health and working with employees to address these.
A mentally healthy workplace can be a valuable part of an organisation's employer value proposition. A survey by Beyond Blue and Mentally Healthy Workplace Alliance found that a mentally healthy workplace was the second most important factor in people's decision to accept a new position. It also found that a mentally healthy workplace made employees less likely to seek other employment.
Find out more about the new era of work, in the Robert Walters eguide: The Future of Work: Futureproofing Careers and Workforces.
For more hiring advice, contact us or click here to find out how we can partner with your organisation.
Which skills are the in highest demand?

the five most in-demand skills for the future are soft skills: 1. Communication Organisations will need people who can not only see the commercial potential of technology, but also translate their vision in ways that inspire colleagues. 2. Business intelligence Data will be the fuel that drives new products, services and innovations. Professionals who can convert data into business intelligence will be highly sought after. 3. Management/leadership Markets will be fast moving, and organisations need leaders who can steer and motivate teams to deliver continuous change. 4. Collaboration Many organisations will have increasingly remote workforces, requiring people who can collaborate and foster culture in virtual teams. 5. Crisis management In a highly volatile marketplace, employers will seek professionals who can proactively mitigate risk, manage cyber security and assist organisations during challenging times.